The full show Moles – in current language version It turns out that in the seventeenth century in France, men and women stuck mole-fly, made of velvet, to those areas of the face, which, as they thought best to tell about their character, lifestyle, preferences, and desires. Gradually developed a unique language of moles, in which it was possible to talk about yourself without the usual words. You look – sexy, quiet, mysterious? And what are you – a romantic, rebellious or cunning schemer?
Character traits or sexual quality match mole on different parts of the face.

Ellen Poisson, a French physician, having studied in the libraries of the Louvre and Versailles hundreds of historical documents (which includes diaries, love letters and ordinary courtiers and nobles of the time, as well as medical records of the doctors who treated the élite) managed to restore language moles.
1. The most notable point – a symbol of deep intuition, mind, and thirst for knowledge with an emphasis on mysticism. (By the way, in Hinduism it is the point of the eye of the god Shiva, or, in a different way, "third eye".)
2. Poetic nature, a tendency to intellectual pursuits.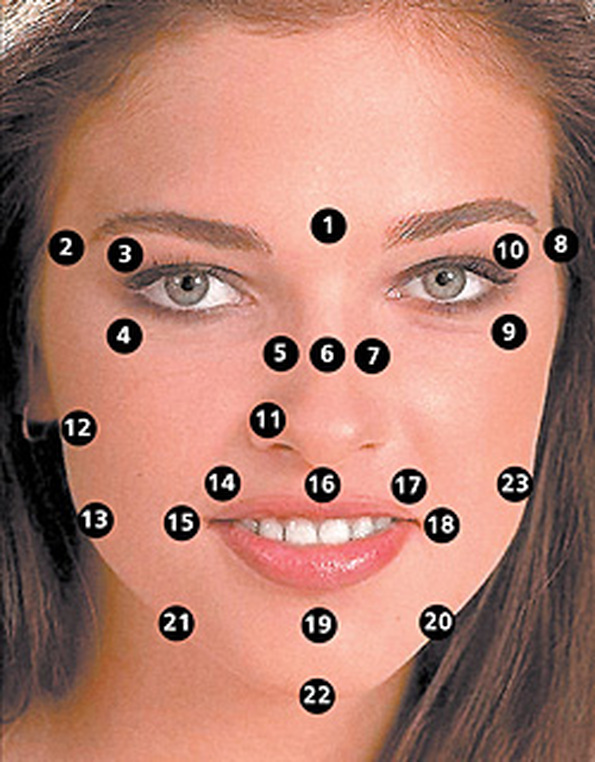 3. Jealous, passionate, flammable, an angry man.
4. A mole here – witness of fidelity and depth of their feelings for the other half.
5. Sensuality, unbridled love.
6. Love for creativity, travel, and fantasy.
7. Selfishness, self-love.
8. Tenderness.
9. In love, predisposition to frequent quarrels.
10. Good memory, diplomacy.

11. The tendency to complicate the love relationships and intrigues.
12. Sentimentality, daydreaming.
13. Taste to frequent quarrels, but the rapid reconciliation.
14. Sublime and mystical mind, the forbidden love.
15. The thirst to have a baby.
16. Windy temptation, a tendency to a shocking behavior.
17. Passion for various love affairs.
18. Sensuality above all.
19. Find large and long love.
20. Difficult character.

21. Hobby – flirt and short communications.
22. Insecurity, fragile health.
23. Small love experience.

But the most interesting observation E. Poisson made by their patients: the real, natural moles on his face really characterize human desires and inclinations. Take a closer look – and you'll learn all about it.